Touring Date
Not Available
General
We will enjoy Tanzanian highlights, Ngorongoro Crater, then the Eastern Serengeti, and finally the Northern Serengeti.
Starts every Monday at Kilimanjaro International Airport, and ends the next Monday back in Kilimanjaro International Airport. This is not a group tour, but a private tour for 2 or more guests wanting the flexibility of going at their own pace on day tours, smaller owner-run accommodations with a high focus on privacy and personal attention.
Tanzania is for many, a bucket list, once in a lifetime experience. The high national park fees and tourism taxes, as well as U$ dollar based costs, does make it a fairly expensive exercise,  but for those wanting a bucket list, authentic East Africa experience, this is worth the extra effort to get there, and the costs.
Delta Airlines, KLM, Ethiopian Airlines all service this route regularly, with either a stop en route in Europe, Nairobi or Addis.
Visit our online itinerary https://wetu.com/Itinerary/Landing/caf003f2-2b54-42d6-88fe-173f67571adb?operatoridentity=22195
ARUSHA 
Resting at the foot of Mount Meru, the sprawling city of Arusha is known as the safari capital of northern Tanzania. It serves as an excellent base from which to explore the remarkably scenic surrounding area which includes majestic Mount Kilimanjaro, as well as the Manyara, Tarangire and Ngorongoro National Parks. Arusha is a good spot to take a day or two off from the safari circuit as it features a temperate climate and lush surrounds. Visitors can look forward to exploring the wildlife-abundant Serengeti National Park; the magnificent Arusha National Park; and taking on the challenge of climbing Mount Meru, Africa's fifth highest mountain.
Situated in the Crater Highlands in Northern Tanzania, the Ngorongoro Conservation Area is best known for its archaeological and geological significance, rich wildlife, and beautiful scenery. The conservation area encompasses the famous Crater, the renowned Olduvai Gorge and vast plains of grasslands, forests and mountains extending to the Serengeti. This 8000-square-kilometre protected area is recognised for its natural beauty and has been placed on the UNESCO World Heritage List. Visitors flock here to soak up the spectacular views of the Ngorongoro Crater, voted as one of the Seven Natural Wonders of Africa, it is famed for its natural beauty and abundant wildlife. Popular activities include: mountain biking, hiking, game drives, bush walks, and visiting a local Maasai village.
The Seronera region, in the central Serengeti, is set directly on the Great Migration route, and offers excellent viewing of this incredible annual phenomenon, when countless wildebeest flood across the plains. While migratory game populations fluctuate seasonally, Seronera is still a wildlife hotspot at other times of the year, sheltering the Big Five, among many other species. A number of small campsites provide accommodation and visitors can enjoy hot air balloon trips and walking safaris as well as guided game drives.
The vast, rolling savannah of the Northern Serengeti, is known as the hub of the great migration. The landscape is characterised by vast stretches of savannah interspersed with acacia trees and riverine woodlands. Wildlife can be seen along the banks of the Mara River and visitors can view the annual spectacle of the half a million migrating wildebeest. Commonly spotted wildlife include: a multitude of plains game such as buffalo, zebra, gazelles, impala, giraffe as well as lion and leopard. Visitors can look forward to bird watching, hot air ballooning, game safaris and guided bush walks.
Full Itinerary
DAY 1 : ARUSHA
Most flights arrive late afternoon/ early evening, and some in the morning. With this is mind, we offer a peaceful location in the heart of the famous coffee plantations, to recharge and gain some strength after the long haul flight.
Welcome dinner, and overnight in a luxurious plantation cottage with a peaceful setting in beautiful gardens of the hotel.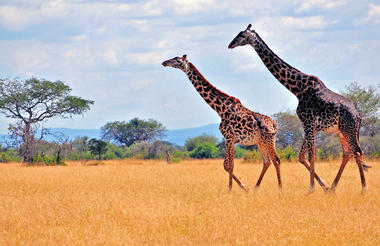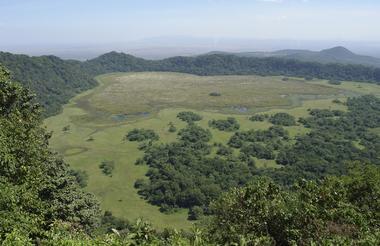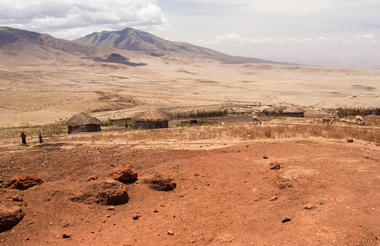 DAY 2 :

NGORONGORO CONSERVATION AREA
After a leisurely breakfast, we will be picked up by our customized touring vehicles and expert rangers, and drive south via some lovely villages and wildlife areas to the Ngorongoro Highlands. Arrive in the late afternoon with a stunning view from the highlands all the way down to the savanna plains below. Sunset drinks and dinner with endless views.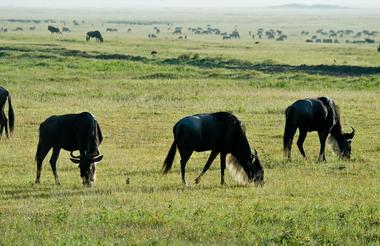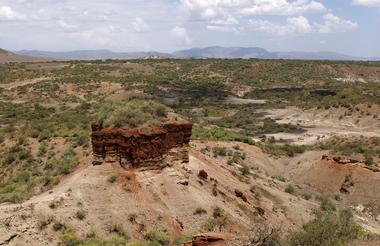 Today we will descend into the Ngorongoro Crater itself, teeming with resident wildlife, and often the setting for stunning vistas, with wildlife dotted across the pristine landscape. The conservation area is much larger than the crater itself. The journey then continues east, through the rest of Ngorongoro Conservation areas, and into the Eastern reaches of the Serengeti National Park. Arrival late afternoon. Dinner under the stars in this scenic eastern region of the most famous national park on the continent!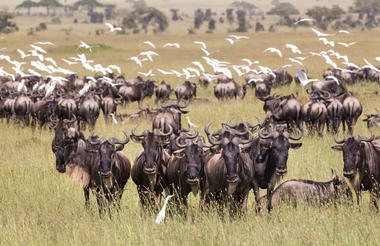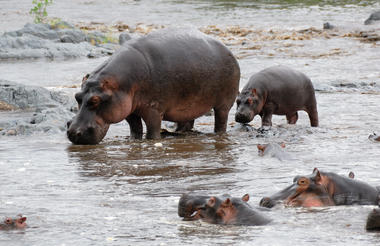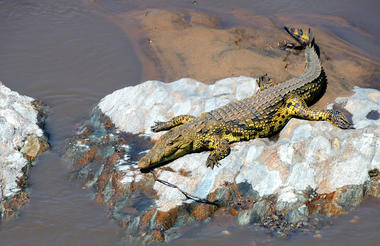 This camp offers an exceptional location far away from the busy Serengeti mass tourism areas.
Safaris activities normally feature in the early morning and late afternoon safari drives.
( There are optional hot air ballooning experiences in the area, at a cost of U$ 550 to U$ 650 per person, depending on the time of year)
After the 2 activities of the day, we can head towards a lovely sundowner and dinner again under the stars. Our tented camp is truly high end, with luxurious furnishings, common to top class hotels around the world. But set in the unique design of wood, canvas,  in the form of a permanent tented structure.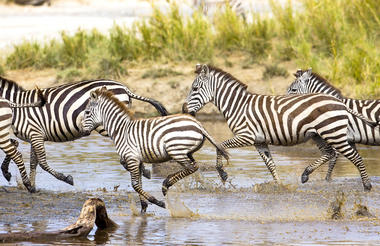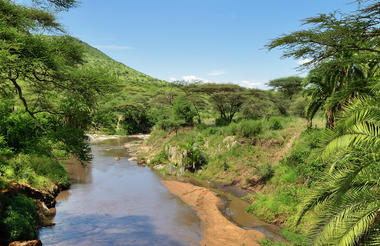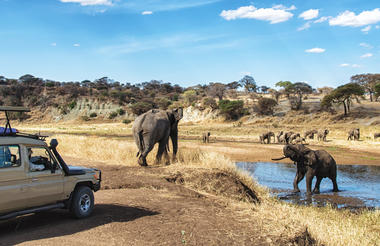 DAY 5 :

NORTHERN SERENGETI
Check out of Ehlane, and take a long easy drive through the park from the eastern side of Serengeti to the northern part.  Arrive well before sunset, and a relaxing Shabbos meal made freshly on the fire for us.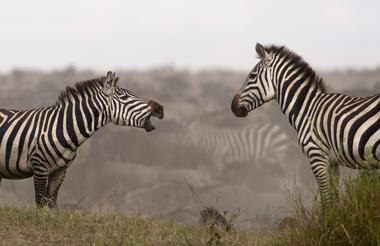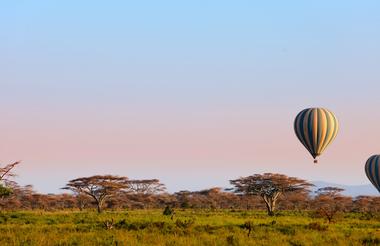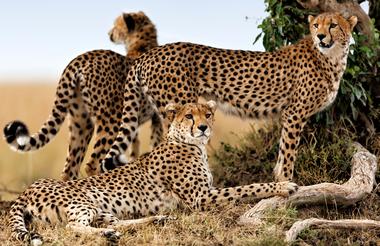 DAY 6 :

NORTHERN SERENGETI
Day at leisure for shabbat. 3 meals per day included. 
The camps tranquil setting is ideal for viewing , and there is a wilderness qualified walking guide to take you on a Shabbos walk in the area.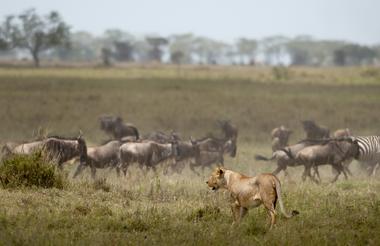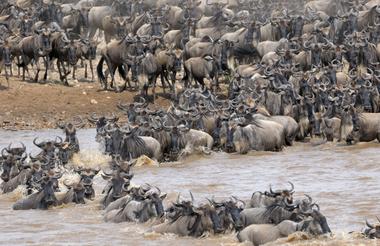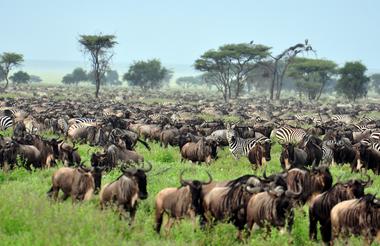 DAY 7 :

NORTHERN SERENGETI
Typically your last full day on safari is based on 2 safari drives in the area, interspersed with lunch either back at the lodge, or if your guides have heard of sightings further out, you could be enjoying a picnic whilst out on the drive. 
Return to camp for your final farewell dinner, and then pack bags for you return charter flight the next morning to Kilimanjaro airport.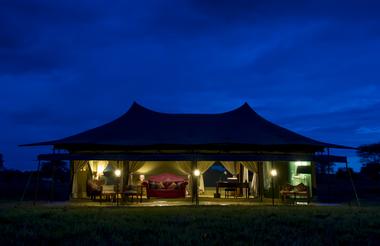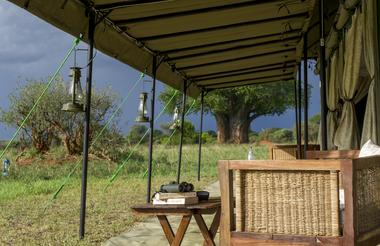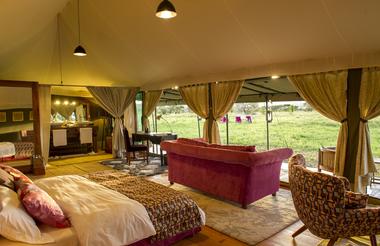 After an early morning game drive in the area in search of the migration, we return to camp for our final breakfast and then take a quick drive to Kogatende airstrip and then a short flight back to Kilimanjaro International airport, to check in the mid afternoon for your international flight. 
Pricing
8 Days / 7 Nights
Group Size: 2 Pax
PRICE
January – May 2020: from U$ 5500 per person sharing.
June – December 2020: from U$ 6400 per person sharing.
Enquire with us for your dates, and we will build it around you. 
It is best to start the trip on a Monday in Kilimanjaro International airport, and ends the next Monday back in Kilimanjaro International airport, Northern Tanzania. 
please note this is not a group tour, its a private tour for couples or families. 
* Please note the rates are subject to currency fluctuation between the ZAR and the US Dollar. Prices are based on the current exchange rate at time of publishing. If the exchange rate fluctuates significantly, we reserve the right to adjust the price accordingly. 
Price Includes:
Accommodation with mostly Parev and some Milchik meals throughout the program. 
Private airport transfers and a dedicated safari vehicle that has been customised for safari viewing, and comfort on the sand safari roads of Tanzania.
Sabbath meals whilst in camp in the Serengeti.
1 Scheduled seat in plane charter from Kogatende airstrip back to Kilimanjaro International Airport.
All national park fees, tourism levies and government taxes (subject to change, please enquire at time of booking on the latest fees, should there have been a mid season increase).
Price Excludes:
International flights to & from Kilimanjaro International Airport.
Any meals not clearly stated as included.
Flight ticket fluctuations for the one flight internally that we take back to Kilimanjaro airport at the end of our Serengeti safari, and all flights are subject to availability of the fare basis quoted.
Accommodation price fluctuations due to availability or room category upgrades.
Mashgiach costs: In general you will self supervise at camps that have a Kosher kit  on site, and that is used by the local chefs to prepare you Parev meals. If you would like to take a Mashgiach along,  we can gladly fly one into Tanzania from South Africa, and you will cover his travel costs, and his U$ 200 a day fee plus any accommodation and transport costs whilst moving through the country with you. 
Visas (Tanzanian Visas are best obtained in advance, online, as purchasing at the airport of arrival, can result in a 2 h
Travel insurance encompassing both cancellation and medical insurance is very important and we cannot stress that enough. We strongly recommend that our clients are adequately insured when travelling. It is crucial to purchase the travel insurance within 14 days from the 1st payment that you make for this trip (flights/cruise/tour etc). Your payment is made directly to the insurance company. We highly recommend the 'cancel for any reason' upgrade option. Our preferred policies are Travel Safe (USA & Canadian residents), Travel Select (USA residents) and Global Trip Protection Elite (All other Nationalities).
Reservations: To reserve your space on this tour, please complete the booking form attached and fax by return at soonest to guarantee your place on the tour.
For an obligation free quote and further details email Yonah yonah@travelinsuranceisrael.com