Travelers may disagree on which sites deserve to be considered modern wonders of the world, but the Panama Canal would surely make most short lists. The shipping channel—which took 33 years to complete and cost 25,000 workers their lives—is arguably the greatest engineering project ever. Today, a journey through the canal will take you from the port of Colón on the Atlantic to bustling Panama City on the Pacific. Along the way, you'll find Gatun Lake, once the largest manmade lake in the world, which has proved a boon for Central American species that thrive here, undisturbed by the ships passing by.
Cabins
MS Eurodam has a total of 1052 cabins (of which 114 Suites, 604 Balcony, 155 Inside rooms) in 38 grades. Most ms Eurodam staterooms are 200-sq.foot balcony rooms. Nearly 70% of ship's accommodations have private balcony views. 30 are the wheelchair accessible rooms. The largest aboard ms Eurodam are the Pinnacle Suites (1150 ft2). There are also Spa cabins (8) and Spa suites (8).
Implemented fleetwide in 2019, "Club Orange" program provides exclusive amenities to Suite passengers booked in categories Neptune and Pinnacle. Bonus perks by this program include:
priority services (check-in, disembarkation, tendering, dining reservations)
24-hour concierge service (assistance, information, reservations)
exclusive dining venue (serving complimentary Pinnacle Grill breakfast and Dining Room dinner, plus exclusive dishes)
dedicated Concierge Desk (Guest Services and Tours)
room service (a la carte breakfast menu with complimentary gourmet dishes – including smoked salmon, steak and eggs)
sparkling wine (embarkation day), Club Orange tote bag, premium bathrobes (cabin use, available for monogramming and purchasing).
Club Orange Restaurant is part of the Main Dining Room (designed as separate VIP dining section).
Shipboard dining options – Food and Drinks
MS Eurodam boasts more dining options than any other ship in the fleet of Holland America besides her sister ms Nieuw Amsterdam. The seven different and distinct dining areas provide casual and formal options. The Rembrandt Restaurant is ship's 2-deck Main Dining Room, and it's open daily for open seating breakfast and occasionally for open seating lunch. At breakfast, there are a lot of choices, from yogurt, fruit and granola, to corned beef hash, pancakes and eggs prepared in many ways. When lunch is served in the Rembrandt, the choice of options is perfect and includes salads, starters, soups, entrees and desserts. It's a relaxing and civilized alternative to the Lido buffet.
Follows the complete list of ms Eurodam restaurants and food bars.
Pinnacle Grill (140-seat reservations-only seafood/steakhouse restaurant with fine wines selection; free for passengers under 12 yo). The venue transforms into "An Evening at le Cirque" once per cruise via partnership with NYC "Le Cirque" French restaurant.
Rembrandt Restaurant (1114-seat, aft Dining Room; features open seating Breakfast and Lunch, two Dinner options – 2 fixed seatings or "Any Time" dining between 5:15 p.m. – 9 p.m.
Terrace Grill (46-seat fast food pool bar; complimentary)
Lido Restaurant (470-seat complimentary buffet restaurant; offers self-service Breakfast 6:00 a.m. -11 a.m., Lunch 11:30 p.m. – 2 p.m., Afternoon Tea, and Dinner 5:30 p.m. – 8 p.m.)
Canaletto Restaurant (Lido Restaurant annex; operates as Italian restaurant for Dinner, reservations required)
Tamarind (142-seat Asian specialty restaurant; reservations-only)
Slice (complimentary Pizzeria, poolside).

Shipboard entertainment options – Fun and Sport
The progress that ms Eurodam introduces for HAL is relatively gentle. The ship is an evolution, rather than a revolution. Still, some changes point more to Hollad America's future than to its past. Eurodam is the first cruise liner built for Holland America without a tennis court, for instance. The area went a long way to making room for a combination basketball/dodgeball court, Silk Den and nearby Tamarind. The private, extra-fee cabana zones around and above the major swimming pool remind more of a sleek South Beach resort than a cruise liner. Other amenities include: complimentary 24-Hour Room-Service, Supervised Kids Program ("Club Hal"), cruise ship weddings, Internet/WiFi Access, Laundry.
Follows the complete list of ms Eurodam lounges, clubs and other entertainment venues for kids, teens and adults.
Atrium (3-deck high midship open-floor area with live performances)
The Mainstage (890-seat theater/main show lounge; also serves Holland America's enrichment program (via partnership with BBC Earth)
Piano Bar; Sports Bar; Pinnacle Bar (36-seat wine bar); Ocean Bar (Atrium bar and lounge, with dance floor and stage for live performances)
Northern Lights Disco & Nightclub (now Gallery Bar cocktail bar)
Billboard Onboard & Lincoln Center Stage
Queen's Lounge & Culinary Arts Centre (166-seat, with live band entertainment, cooking shows, culinary classes; via partnership with "Food & Wine Magazine")
Explorer's Lounge & Bar (lounge with bar; classical concert performances); Silk Den Lounge
King's Room (complimentary workshops, Internet computers room, by partnership with Microsoft)
Photo Gallery & Shop; Art Gallery
Casino (served by Casino Bar and Sports Bar)
Screening Room (38-seat indoor cinema)
Atrium Shops (boutiques for duty-free tobaccos and liquor, perfumes, watches, clothing, HAL logo merchandise, souvenirs); Marabella Luxury Shop
Explorations Cafe (specialty coffee bar and patisserie; also serves as ship's Library and Online Centre/Internet computers room)
Neptune Lounge (club venue for Deluxe Suite and Pinnacle guests only)
Fitness Center (gym with separate Aerobics Room); 7 jacuzzis
Greenhouse Spa & Salon; Lido Pool area, served by Lido Bar and Terrace Grill; Sea View Pool area served by Sea View Bar; The Retreat (adults-only)
Crow's Nest (observation lounge; bar and dance floor; becomes disco at night)
Sport Court (basketball, volleyball, soccer); Promenade Deck, Walking Track
Club HAL (kids lounge, complimentary youth programming)
The Loft (teens club lounge area, with Video Games Arcade, computers, PlayStations; teen disco).
Panama Canal
Panama has the most unique Caribbean destinations, including Curacao and the oldest synagogue in the western hemisphere…. Join our Kosher Panama Canal Cruise Today!  Guests aboard  Eurodam, in our Vista-class series, enjoy a spectacular art and antique collection, wide teak decks, elegant dining rooms and spacious staterooms-many with verandahs About the Cruise Travelers may disagree…
Ho
lland America Line (HAL) is a Seattle-based cruise company owned by Carnival Corporation (shipowner). Between 1873-1989, HAL was a Dutch cargo and passenger shipping company operating regular Transatlantic crossings between Holland and the Americas. HAL was founded in 1873 as "Dutch-American Steamship Company" headquartered in Rotterdam Netherlands. In 1989, HAL was acquired by Carnival Corporation for around EUR 530 million. Among company's assets are the Westmark hotel chain (Alaska-Yukon), Worldwide Shore Services (warehouses-logistics) and Half Moon Cay (Caribbean private island).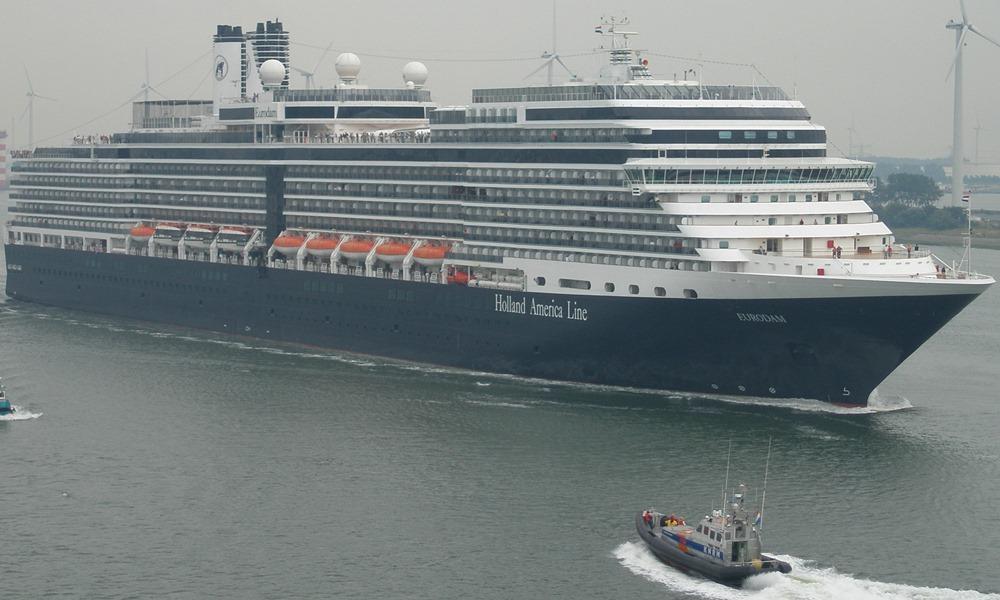 The 86,273-ton, 2,104-passenger cruise ship ms Eurodam keeps going HAL's more recent tradition of offering an onboard atmosphere that blends elements from past and present. The vessel's stylish art collection, its excellent trained crew members – that hail mainly from the Philippines and Indonesia – and courtly evening amusement, from a nightly string quartet to cheek-to-cheek dancing, all connect cruisers to Holland America's magnificent inheritance.  MS Eurodam was last refurbished in January 2016. Following the 2-week long drydock, ms Eurodam boasts a number of new dining venues, suite offerings and entertainment options. Guests aboard Holland America Line's Eurodam will find new food and beverage offers. Replacing Northern Lights, passengers can start the evening at the new cocktail bar Gallery Bar, serving unique drinks by celebrity mixologist Dale DeGroff. On ship's Lido deck, cruisers will find a reconfigured Lido Market, with modern "island station" design.
For suite guests, a refreshed experience is prepared. As announced earlier in 2015, the refresh program is adding new carpet, furniture, USB and revamped electrical outlets, an enhanced bathroom and vanity. Announced as brand new offerings for the upcoming Koningsdam, Billboard Onboard & Lincoln Center Stage made a grand appearance on ms Eurodam, with new ways for passengers to dive into music. Billboard Onboard creates an exceptional twist to traditional night entertainment, hosting live musicians who perform Billboard's hottest hits, mix in dueling pianos and music trivia. Via partnership with Lincoln Center for the Performing Arts, The Stage will host nightly performances of classical music, as well as afternoon recitals on sea days.